DR. WATKINS HOUSE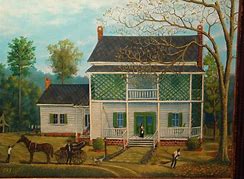 The Burnt Corn plantation was the residence of Dr. John Watkins and is thought to be built in 1812. The plaque by the front door reads: The Watkins House...Built in 1812 by Dr. John Watkins, the only physician in this part of the Mississippi territory at that period. Gen. Jackson passed here in 1814 to fight at the Battle of New Orleans...
Erected by Beta Sigma Phi Rotary Club April 1976.
One story says that the house was built by two bachelor brothers by the name of Richardson, and later, Dr. John bought it after moving to Burnt Corn from Claiborne. Another story says that John built it. That's really all we know about the house.
The Watkins' family bible (in the possession of John Cumming Watkins, Jr.) does not include a date of birth for Dr. John Watkins. Notes written by family members in the margins of W. Brewer's Alabama: Her History, Resources, War Record, and Public Men From 1540 -1872. Montgomery, AL: Barrett & Brown, Steam Printers and Book Binders, 1872, pp. 195 indicate that he was born in 1795 and graduated in medicine at Philadelphia in 1814 at the age of 21. According to the Dictionary of Alabama Biography by Owens, it states that he was born in 1793. According to the Alabama census of 1850 for Monroe County (p. 15 -#196), John Watkins was listed as being 65 years old and his wife Mary was listed as being 40. From this census information and the inscription on his tombstone in Burnt Corn (Monroe County), AL noted that he died at the age of 68 in 1853. All of this would indicate that he was born in 1785.
According to Brewer, W. Alabama: Her History, Resources, War Record, and Public Men From 1540 - 1872. Montgomery, AL: Barrett & Brown, Steam Printers and Book Binders, 1872, pp. 195 -196. "the memory of John Watkins lingers in Conecuh. He was born within five miles of the present Appomattox Courthouse, Virginia, in 1785, and was connected with many of the best families of that State. He was liberally educated, and was graduated in medicine at Philadelphia in 1815. He shortly after removed to South Carolina, where he practiced in the the family of Hon. J. C. Calhoun in Abbeville. Around that time, he came to the Tombigbee settlement, and soon after made Claiborne his permanent home.
At that time he was the only physician between the Alabama and Chattahoochee rivers, and he was fully employed. He represented Monroe in the convention of 1819 that framed the constitution for the would be State, and the same year was chosen the first senator from the county. He settled in this county soon after it began to be peopled, and in 1828 was elected to the senate from Butler and Conecuh. Three years later he served Conecuh in the other branch of the legislature. In 1842-45 he represented Monroe and Conecuh in the senate, which was his last connection with public life. He died in 1853 on the verge of 68 years.
He was a man of extraordinary physical powers, and betrayed his age neither in his faculties nor his appearance. His manners were plain, and rather brusque, but his benevolence and hospitality were proverbial. He never sought popularity, but the people of Conecuh and Monroe honored him whenever he was a candidate. His literary taste and devotion to scientific research led him to collate one of the completest private libraries in the State, and his range of information was wide.
He married Mrs. Hunter, sister to Hon. W. B. H. Howard of Wilcox, and one of his sons is a physician and planter of Lowndes, while another fell in defence of his country during the late war. (Note: The name of Richard Watkins is hand written in at the end of this section). pp. 445 - List John Watkins as a senator from Monroe County in 1819 and 1842.
According to , Dictionary of Alabama Biography, p. 1789 John Watkins,..., son of Richard and Elizabeth (Parish) Watkins, the former a native of Virginia, who lived in that state and in Tennessee; grandson of William and Martha Watkins, who lived in Chesterfield and Charlotte County, Va.
According to Brantley, Mary E. Early Settlers Along the Old Federal Road in Monroe & Conecuh Counties Alabama. Baltimore, MD: Gateway Press, 1976, p.99 Dr. Watkins came in a caravan from South Carolina to the Fort Mims area shortly before the Massacre in 1813. He administered aid to the surviving victims. He continued to live in this section for awhile and then moved to Burnt Corn where he reared his eight children. p. 7 The earliest doctor in these parts was Dr. John Watkins. He served the "Bigbee" Settlement and Claiborne Community before moving to Burnt Corn. At one time he was the only doctor between the Alabama River and the Chattahoochee River. Some of this info. doesn't really flow well, but it's all I have. John Watkins, Tuscaloosa, AL